Engraved Labels Colchester
Engraved / Laser Engraved Labels:
---
Labels can be engraved using a wide range of plastic laminates and colour combinations. Ranging from internal grade laminates, through to rigid, reverse engravable and UV stable / external grades, in a choice of thicknesses.
Labels can also be engraved in other materials such as Acrylic, Polycarbonate, Brass, Aluminium & Stainless Steel. Labels can be manufactured in any size, shape & colour combination. Labels can either be supplied with fixing holes or self adhesive backing.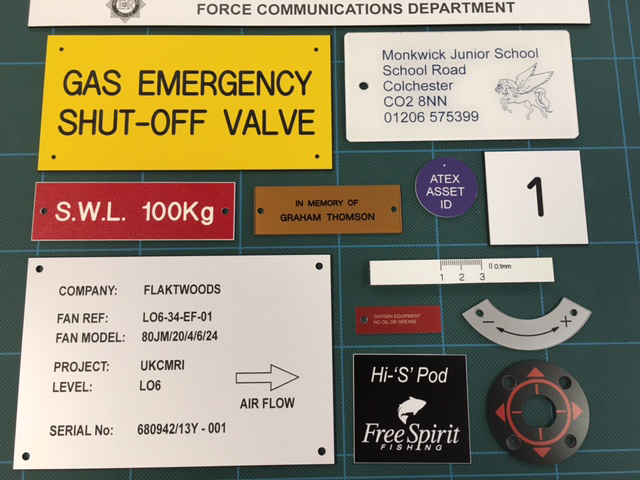 Printed Labels:
---
Labels can be printed on many types of material, such as self adhesive paper, vinyl, pvc, polyester, polycarbonate, anodised aluminium & aluminium foil.
Labels can be cut to any shape or size required, and can be supplied individually cut, die cut, on rolls or on sheets.
Labels can also be printed with protective lamination or clear over-varnish to be more durable.
Resin domed labels are also available.
Chemically Etched / Printed Metal Labels:
---
Labels can be etched and paint filled to any pantone colour in brass or stainless steel with a choice of either polished or satin (grained) finishes.
If you're interested in any of our services and you have a query, drop us a message here: